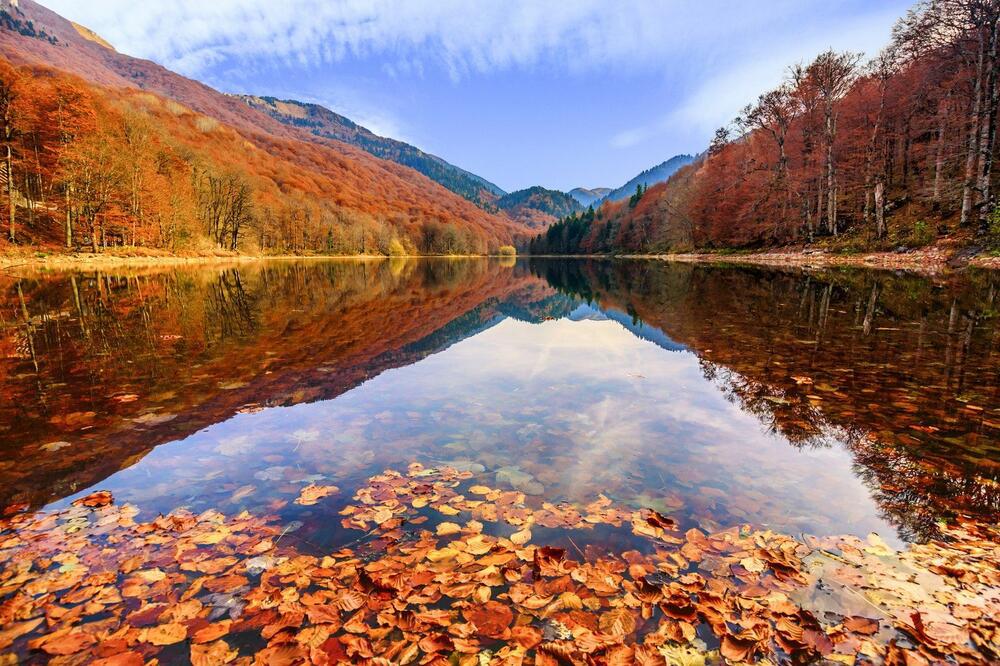 19.11.2021
Today we continue our acquaintance with the remarkable and untouched nature of Montenegro and we get acquainted with another National Park - Biogradska Gora.
There aren't too many parts of Europe where the forests have been left entirely untouched. In Montenegro, there is a virgin rainforest - Biogradska Gora National Park. This forest is one of the most imposing forests and National Parks in South Europe.
Did you know that Biogradska Gora is the first National Park in Montenegro?
The story of this rare, nature's diamond begins in the 19th century with King Nikola Petrović's persistence to preserve this area so that future generations could enjoy it. It became the so-called, "king's shelter" and since then it is under state protection. In 1952 the Park was proclaimed to be a National Park and since 1977 it is under UNESCO protection as a part of the Man and the Biosphere Programme (MAB).
Biogradska Gora is the smallest of Montenegro's five national parks, however, it has some of the greatest flora and fauna diversity.
There are 26 different habitats of plants with 220 different plants. 150 kinds of birds and 10 kinds of mammals live in this Park and in its forest, there are 86 kinds of trees. Experts say that 20% of them are endemic to the Balkan Peninsula. One of the most common tree types that make amazing forests in Biogradska Gora National Park is usually spruce, beech and fir trees. Most of the trees are more than 500 years old and more than 50 meters high.
This National Park includes 54 km2 of phenomenal nature such as six wonderful, clear glacial lakes, high mountain tops and slopes, centennial forests, green pastures and clear streams.
The most famous attraction is Biograd lake on mount Bjelasica, 1.094 meters above sea level. The surface of the clear lake Biograd reflects the blue-green colours of the forests that surround it. Many people visit this place to enjoy the unforgettable scenery of the lake.
Besides lake Biograd, there are beautiful Ursulovacko, Pesica, Sisko, Mali Sisko and Sevarina glacial lakes which contribute to the breath-taking beauty of the whole area of National Park.
The Flora of Biogradska Gora National Park is rich with wonderful coniferous and deciduous forests, meadows and pastures.
Some of the activities that you can enjoy while in Biogradska Gora are camping, hiking and exploring the hidden corners of this extraordinary rainforest.
Since Biogradska Gora in Montenegro is situated in mountain Bjelasica, the average summer temperature in this area is only 17 C. For everyone who is searching for a perfect get-away from the, often, unbearable summer heat, Biogradska Gora is the best choice for a pleasant holiday.
In the winter months, Kolašin and the Biogradska Gora National Park become the centre of winter tourism in Montenegro. In addition to the ski centre "Kolašin 1450", two years ago a new ski resort "Ski Center Kolašin 1600" was opened, which offers 11 km of trails. Currently, works are underway to connect the two ski resorts, which will provide another 10 km of trails.
Another great thing for this region of Montenegro is the Government's program - Citizenship by Investment, one of the goals of this programme is to accelerate economic and tourism development in less developed parts of the country. In the area of National Park Biogradska Gora and the city of Kolasin, there are as many as six projects assigned for the CBI programme. These new developments will significantly influence and improve the tourist offer and the further development of this beautiful part of Montenegro.
Reviews
In period May-August 2022 we sold our flats in St-Petersburg Russia and have bought two ones here in Montenegro, Becici. We decided to move here and make new home and business with my husband. Our agent Milica Zugic is really became our angel - provider here in Montenegro. She is very reliable, responsible , professional employee of CMM Budva department. She has developed intuition and found very fast necessary properties which we needed. Also she helped us to speed up the process of registration documents in MUP.( list nepokretnosti, etc). She was our real provider here. Very appreciated her and all staff of Budva department for there assistance. Separately to lawyer Ivan and his legal team. Very recommended choose Milica Zugic as real estate manager when you search for assistant in this complicated and important field as buying property in Montenegro.

Liudmila Nosova St-Petersburg Russia , 13.09.2022 11:20:09

At the beginning of April 2022, our family living in Prague bought a house in Sutomore with the assistance of your company.
Let me express my gratitude to the management of your company for the service provided, and especially to your employees - Anastasia Zeyak, Alexei Grachev and Elena Bozhovich for their attention, patience and even care for the whole time of buying real estate and the services provided after the purchase.
I would really like all companies to work with the same quality of service. After coming into contact with this kind of attitude towards the client, all our environment, if necessary, will refer to your company only.
With gratitude on behalf of our family.

A.V. Ter-Gazaryan, 12.07.2022 12:32:19

Based on my experience with CMM in Budva, Montenegro, I can say that they are reliable, fast, and they deliver what they promise. They take really good care of their clients. For instance, I was offered a lift from the airport, and they would take me back and forth from Tivat to Budva and Becici to see various properties. They would answer all of my questions and respond promptly. They have an excellent team: Katarina, Alexander, Natasha, Martin and some other guys whose names I don't remember. Katarina, my wonderful agent, went to every length to help me find a perfect home. Unfortunately, my situation changed and I had to postpone my relocation to Montenegro.
I would strongly recommend this company to anyone who is looking for a property in Montenegro.


Val , 13.05.2022 04:18:13

We were introduced to CMM by friends who had already done research on Montenegro and CMM. We purchased our apartment in Dobrota, just outside Kotor, all remotely from South Africa, during the lockdown. Everything was seamless without any problems at all. All the CMM departments work together well from the sales team, head office, legal, interior design and rental department. Every detail was well communicated with an abundance of zoom meetings, videos, emails etc
We are thrilled with the outcome and enjoyed working with the CMM team. They were incredibly professional.
After sales service is also excellent as we move into the rental phase of the apartment and over all management of the apartment including maintenance.
We have been directly and indirectly involved with many houses/apartments all over the world and this was the up there with the best service we have received.
Thanks to everyone we dealt with at CMM it has been an absolute pleasure dealing with you all. We look forward too many happy years working with you on our rental.


Mandy and Antoine, 06.10.2021 10:56:22

Biz Montenegroda CMM komandayla tanish olmushug. Snejana ve Milan bize cox yaxshi destek olublar. Artig bizim burada evimiz de var. Bize gosterdiler cox yuksek service, ve artig butun bizim senedler de gaydasindadir. Boyuk hormetle onlara Cox sagol bildiririk!

Dilara, 01.10.2019 08:17:27

Last year we decided to find a new home close to the sea. It was quite difficult in the beginning to make the right choice. Once we found CMM Company was a great luck! We immediately received detailed consultation on the country and purchase opportunities. Being attracted by Kotor - one of the most amazing parts of the coast, we decided to take a family trip and maybe make our dream of new home come true. As just discoverers of Montenegro, we were accepted like at home which was a one more pleasant surprise. The most important, we received all detailed information about country regions and procedure of buying property during the first few days. And how beautiful the car journeys were! Difficult choice, but when you find the home you want you can't refuse it. CMM did best to help us with this finding! All the purchase procedure passed well with CMM professional work! Now we are happy owners of a wonderful house with a Kotor bay view, being perfectly served by CMM Management company (of course, we've chosen CMM as professional house manager). Hope our friends and relatives would also move to Montenegro with the CMM help soon !!!

Kate, 22.03.2019 13:06:21
---
Add:
Leave a request right now
success