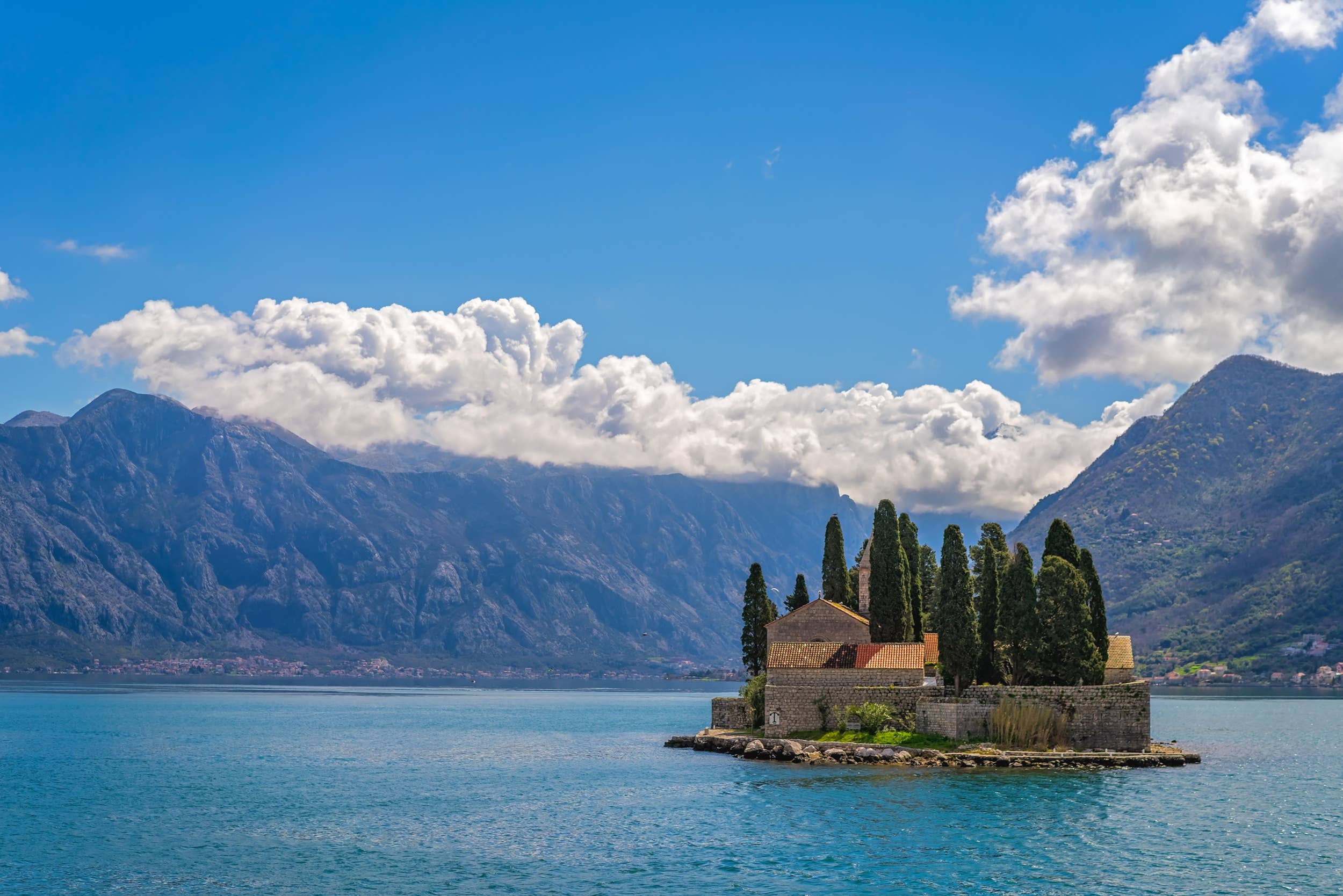 28.06.2021
Montenegro is small but it has big plans for the future. Live among the locals fr om £122k.
The small Balkan state of Montenegro, once part of Yugoslavia, has grand plans for its future.
It aims to capitalise on having one of Europe's most arresting locations, majestic Boka Bay, with high-quality homes in a little-known destination within three hours of most European capitals.
Boka Bay is the focus for most large-scale development in Montenegro and is exceptional, a fjord-like inlet off the Adriatic Sea stretching for 17 miles under steep forested mountains to the Unesco World Heritage town of Kotor.
Children jump and swim around the water's edge, 65 miles in all, while in the middle of the bay, the scenic 15th-century church of Our Lady of the Rocks sits on its own man-made island.
The lowdown on Lustica Bay
New resort Lustica Bay welcomed its first residents and yachts last year and has already set remarkable records.
It is Montenegro's largest and most expensive project with an investment of close to £1 billion and plans for 1,500 homes over the next 10 years.
There will be two marinas, seven hotels — the 111-room five-star Chedi Hotel is already open — and Montenegro's first 18-hole golf course, designed by Gary Player.
Developer Orascom, in a joint venture with the government of Montenegro, plans a new town on a huge 1,700-acre greenfield site directly on the Adriatic Sea.
By adding schools, medical centres, supermarkets and sports facilities in carefully landscaped grounds they aim to encourage a year-round community, somewhere local families will want to live just as much as holidaymakers.
Homes at Lustica Bay range fr om studio apartments in Centrale, the workaday heart of the resort, from £122,500 and two-bedroom homes of 797sq ft from £201,500 up to substantial detached villas with private gardens and pools for over £1.8 million.
Two- and three-bedroom townhouses with private gardens, pools and garages start from £756,000.
Orascom has many similar and successful "new town" developments under its belt including Andermatt in Switzerland. Its detailed master plan at Lustica Bay allows for a community — eventually — of up to 14,000 residents.
"The vision for Lustica Bay is bold and ensuring the infrastructure is in place is critical," says chief executive Darren Gibson.
"Orascom has a long-term vision and the financial back-up to pay for it. What really resonates with our buyers is the open space wh ere we will only develop 10 per cent of the total site, the golf course, the direct and open access to the sea and the combination of quality building with good-value pricing."
The lowdown on Porto Montenegro
Porto Montenegro is Montenegro's most established resort, opening in 2009 on the site of a former military marina.
It's conveniently close to Tivat town and its international airport, and it is popular with visitors who come to eat and shop at the smart restaurants and boutiques while gazing at the dazzling collection of yachts and boats in the 491-berth marina.
Porto Montenegro has 400 completed homes and is selling new one- to four-bedroom apartments from £448,000, most facing the magnificent marina on the bay.
New One & Only hotel
In a prime position at the entrance to Boka Bay, superbrand One & Only is preparing to open its first European hotel at Portonovi next year.
Portonovi is a handsome new resort 10 minutes' drive from the town of Hercog Novi.
Its highlights include a 238-berth marina taking yachts up to 395ft, a heliport, a sandy beach —rare on this pebbly coast — and 275 homes including 10 One & Only branded villas with private beach and sea access priced from £8.5 million.
Portonovi aims to focus on personal service through full-time concierges, and its wide range of restaurants includes top-end Locatelli and Tapasake.
One- to four-bedroom apartments of 538sq ft to 6,590sq ft start from £358,000 in a mix of handsome contemporary and traditionally styled buildings around the marina.
Credit to: Evening Standard
https://www.standard.co.uk/homesandproperty/wh
ere-to-live/holiday-homes-in-montenegro-ps1-billion-investment-for-majestic-boka-bay-with-1-500-homes-golf-course-marinas-and-hotels-a132586.html?fbclid=IwAR39fXxQ-H8B_6_ZoiUc3bdrmyZL0UETG5hxRlNL_NNf4vcv3qVr2Wk7nzc
Reviews
In period May-August 2022 we sold our flats in St-Petersburg Russia and have bought two ones here in Montenegro, Becici. We decided to move here and make new home and business with my husband. Our agent Milica Zugic is really became our angel - provider here in Montenegro. She is very reliable, responsible , professional employee of CMM Budva department. She has developed intuition and found very fast necessary properties which we needed. Also she helped us to speed up the process of registration documents in MUP.( list nepokretnosti, etc). She was our real provider here. Very appreciated her and all staff of Budva department for there assistance. Separately to lawyer Ivan and his legal team. Very recommended choose Milica Zugic as real estate manager when you search for assistant in this complicated and important field as buying property in Montenegro.

Liudmila Nosova St-Petersburg Russia , 13.09.2022 11:20:09

At the beginning of April 2022, our family living in Prague bought a house in Sutomore with the assistance of your company.
Let me express my gratitude to the management of your company for the service provided, and especially to your employees - Anastasia Zeyak, Alexei Grachev and Elena Bozhovich for their attention, patience and even care for the whole time of buying real estate and the services provided after the purchase.
I would really like all companies to work with the same quality of service. After coming into contact with this kind of attitude towards the client, all our environment, if necessary, will refer to your company only.
With gratitude on behalf of our family.

A.V. Ter-Gazaryan, 12.07.2022 12:32:19

Based on my experience with CMM in Budva, Montenegro, I can say that they are reliable, fast, and they deliver what they promise. They take really good care of their clients. For instance, I was offered a lift from the airport, and they would take me back and forth from Tivat to Budva and Becici to see various properties. They would answer all of my questions and respond promptly. They have an excellent team: Katarina, Alexander, Natasha, Martin and some other guys whose names I don't remember. Katarina, my wonderful agent, went to every length to help me find a perfect home. Unfortunately, my situation changed and I had to postpone my relocation to Montenegro.
I would strongly recommend this company to anyone who is looking for a property in Montenegro.


Val , 13.05.2022 04:18:13

We were introduced to CMM by friends who had already done research on Montenegro and CMM. We purchased our apartment in Dobrota, just outside Kotor, all remotely from South Africa, during the lockdown. Everything was seamless without any problems at all. All the CMM departments work together well from the sales team, head office, legal, interior design and rental department. Every detail was well communicated with an abundance of zoom meetings, videos, emails etc
We are thrilled with the outcome and enjoyed working with the CMM team. They were incredibly professional.
After sales service is also excellent as we move into the rental phase of the apartment and over all management of the apartment including maintenance.
We have been directly and indirectly involved with many houses/apartments all over the world and this was the up there with the best service we have received.
Thanks to everyone we dealt with at CMM it has been an absolute pleasure dealing with you all. We look forward too many happy years working with you on our rental.


Mandy and Antoine, 06.10.2021 10:56:22

Biz Montenegroda CMM komandayla tanish olmushug. Snejana ve Milan bize cox yaxshi destek olublar. Artig bizim burada evimiz de var. Bize gosterdiler cox yuksek service, ve artig butun bizim senedler de gaydasindadir. Boyuk hormetle onlara Cox sagol bildiririk!

Dilara, 01.10.2019 08:17:27

Last year we decided to find a new home close to the sea. It was quite difficult in the beginning to make the right choice. Once we found CMM Company was a great luck! We immediately received detailed consultation on the country and purchase opportunities. Being attracted by Kotor - one of the most amazing parts of the coast, we decided to take a family trip and maybe make our dream of new home come true. As just discoverers of Montenegro, we were accepted like at home which was a one more pleasant surprise. The most important, we received all detailed information about country regions and procedure of buying property during the first few days. And how beautiful the car journeys were! Difficult choice, but when you find the home you want you can't refuse it. CMM did best to help us with this finding! All the purchase procedure passed well with CMM professional work! Now we are happy owners of a wonderful house with a Kotor bay view, being perfectly served by CMM Management company (of course, we've chosen CMM as professional house manager). Hope our friends and relatives would also move to Montenegro with the CMM help soon !!!

Kate, 22.03.2019 13:06:21
---
Add:
Leave a request right now
success